Prezi Gizmo
The Prezi gizmo allows you to include Prezi presentations in your portfolio. The presentation can play on your page or you may create a link to your presentation. This is a gizmo found using the Gizmos tab on the tool bar.
Adding the Prezi Gizmo
To add the Prezi gizmo click Gizmos then Prezi. This will pick up the gizmo so you can place it on the portfolio page.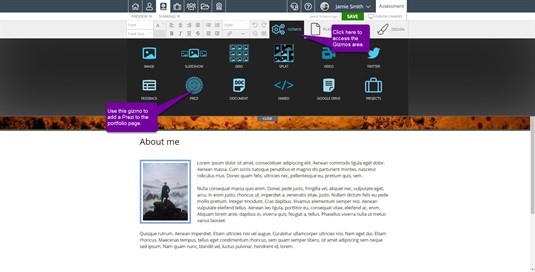 Move your cursor to where you would like the gizmo to be placed and click again to "put it down." The available places to put the prezi will be outlined in green.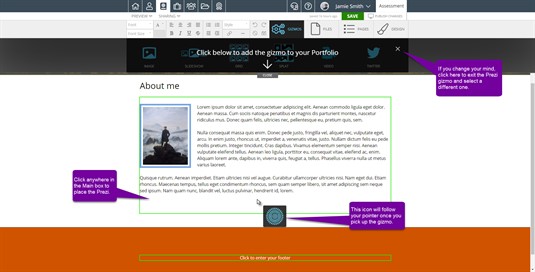 You will then see a configuration box. Insert the URL for your presentation in the Prezi URL box. Click the check mark button and you will then see a Prezi Presentation place holder. To see how this presentation will look on your page, save your portfolio and click View Draft from the preview menu.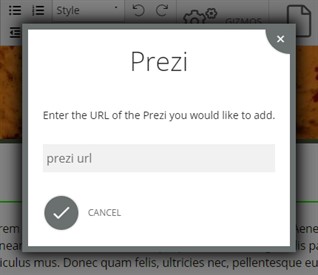 Editing the Prezi Gizmo
To edit the Prezi gizmo, click on the place holder. You will then see a bar pop up with a slider and options to switch to link, config, and remove. The slider allows you to change the size of your presentation on your portfolio. If you would like to convert your presentation preview into a link, click switch to link. To change the URL for your presentation, click config. If you want to completely remove your presentation from your portfolio, click the remove link.