Sorting Files
To start using files in your Foliotek Presentation, first open a portfoio, then click the "FILES" button on the editing bar.
How To Find Files
Foliotek makes it easy to find files that you have uploaded to your file storage area. You may sort your files by file name, date uploaded, file type, or file size. You can also limit your sort to images, videos, or links.
Limiting
If you know that you are looking for a certain kind of file, such as an image you would like on your page, you can limit the view on your storage area to just images, just videos, or just links. To do so, use the tabs at the top of the file storage area. You can also select "Uploads" to view files that you have uploaded this session.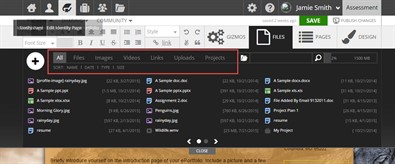 To view all your files again, click "All" or "Files".
Sorting
Once you are on the desired tab, you may sort the files by name, date, type, or size. You can do this in the "SORT" menu under the tab names.