Feedback Gizmo
The Feedback gizmo creates a feedback form in your portfolio. This will allow users who visit your portfolio to tell you what they think of it. They will leave their name, email address, and any comments they would like to make for you to see.
Adding the Feedback Gizmo
To add the Feedback Gizmo, click Gizmos then Feedback.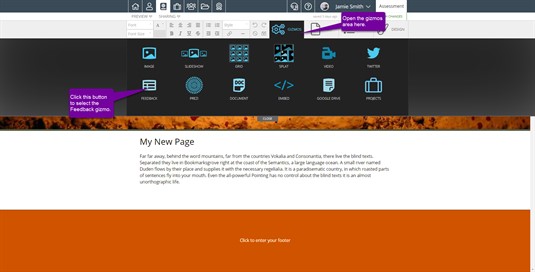 A feedback form can be placed in the main, minor, or footer boxes of your portfolio. Find the location on your page where you would like to place the form and click there.
The form will appear and that is all you need to do. The Feedback gizmo is very simple and needs no configuration.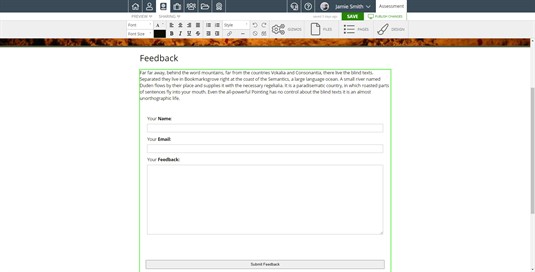 Removing the Feedback Gizmo
To remove the feedback form, click on the form and a box will appear that says remove. Click that box and the form will be removed from your page.
Viewing Feedback
When someone leaves feedback on your portfolio, a red circle with a number in it will appear next to your name. The number indicates how many unread Feedback messages you have.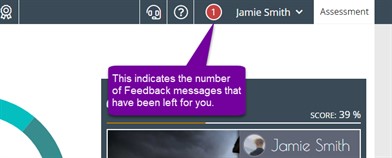 To view your feedback, click the arrow next to your username in the top right corner. Then click Feedback. From here you can see the comments for your private, public, and community shares.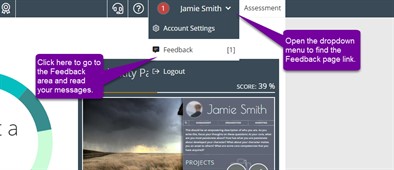 The name of the portfolio that was commented on is listed to the right of the comment. You can also see the date and time the feedback was submitted and the type of share that it came from To remove a comment, click the check box next to the comment and click "Remove" at the top of the page. You can also click the check box next to the comment and click "Mark as Read" to mark the comment as already read.