Google Drive Gizmo
Foliotek presentation allows you to add documents to your portfolio a number of different ways. One of these ways is using the Google Drive gizmo. This is a gizmo found using the Gizmos tab on the toolbar.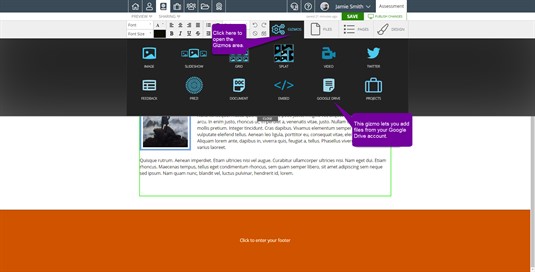 Once you find the Google Drive gizmo, click once on the gizmo to "pick it up." There is no need to click and drag the gizmo; clicking on it once will "pick it up." After you have picked up the gizmo, you can place it in any of the green outlined editable areas on the portfolio page. Move your cursor to where you would like the document to be placed and click again to "put it down".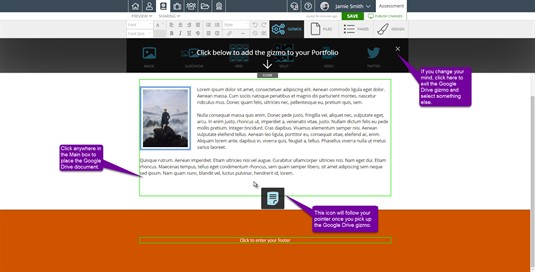 The first time you click to place the gizmo, you will have to give Foliotek access to your Google Drive account.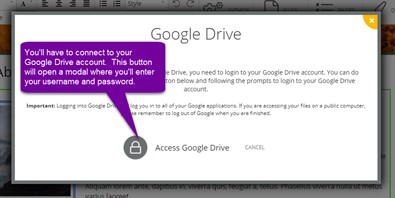 Once you access your Google Drive account, your documents will be available to place in the portfolio. There will be two tabs. My Drive is where you find any files you have uploaded. The Shared With Me tab is for files others have shared with you. You can add files from either tab to your portfolio.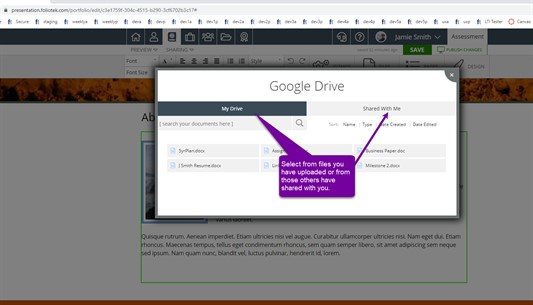 Click on the file you wish to add and then click into the portfolio page where you want the file to be placed. You will then be asked how you want to add the document, as a link or an inline document. Make your selection and the click the check mark to add the document.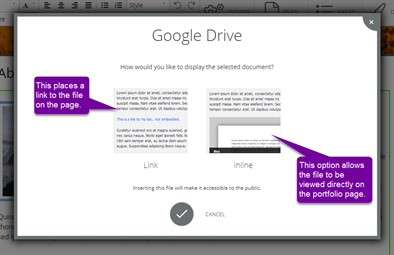 Once the document is added, you can double click the document in placeholder view to add a description, or change the margin and border size around your document.