File Storage
To start using files in your Foliotek Presentation click the "FILES" button on the editing bar.
What is the File Storage Space?
With Foliotek Presentation, you receive 250MB or 500MB of storage, depending on the subscription you selected. Here, you can upload files that you may want to use in your portfolio. You may upload picutres, videos, documents and more. To view how much storage space you have remaining, look at the percentage bar under the "FILES" tab. You can also access your file storage area using the file manager. The file manager can be accessed by clicking 'Files' in the top black bar at any time.
If you need more space, you may purchase more under Account Settings. If you have several video files, you can try compressing the videos to save storage space. There are many compression tools available, but we've found Handbrake to be a good (and free) resource. This video will show you what settings to use during the compression process to get the most use out of your Foliotek storage space. Visit the Handbrake website to download the tool.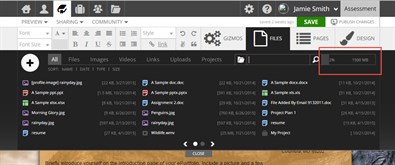 Viewing Files
To view your files by file type, use the tabs across the top of the FILES tab.

Clicking "All" or "Files" will show you everything you have uploaded to your Files area. Clicking "Images" will display only image files, while clicking "Videos" will display only video files. If you added links to your portfolio, they will be located under "Links". "Uploads" will show files that are currently uploading to your storage area.
File Manager
You can also use the file manager system to work with your files. The file manager can be used to upload and organize the files in your Foliotek Presentation account. With the manager,you can upload new files, create folders and subfolders, place files in folders to better organize your files area, download files to your computer, search for uploaded files, determine the amount of storage space remaining in your account, and remove unnecessary files. You can access the file manager by clicking the 'Files' button in the top black bar at any time.