Image Gizmo
Foliotek presentation allows you to add images to your portfolio in a number of different ways. One of these ways uses the Image gizmo. This is a gizmo found in the Gizmos tab on the toolbar.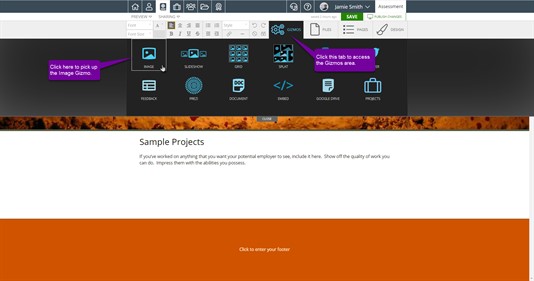 Using the Image Gizmo
You'll find the Image gizmo located with the rest of the gizmos in the Gizmos tab on the standard content editor toolbar.
Once you find the Image gizmo, click once on the gizmo to "pick it up." There is no need to click and drag the gizmo, clicking on it once will "pick it up." Now, navigate to where you would like the gizmo to be placed and click again to "put it down." The available places to put the image will be outlined in green.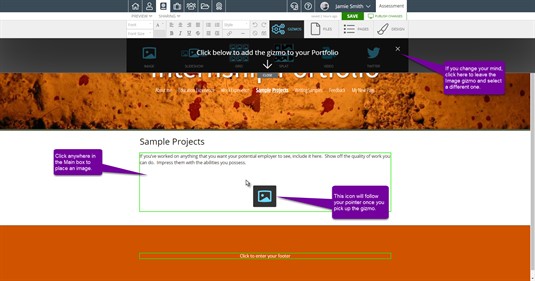 Once you click to place the gizmo, you have the choice to either choose an image you have already uploaded into your files area, upload a new image from your computer, or select an image from the web.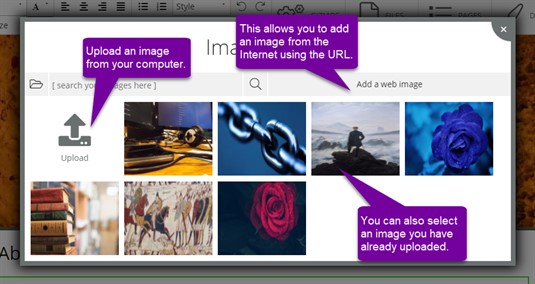 Adding a web image is as simple as pulling the image URL from the website and entering it into the URL box in the Add Web Image modal. Once you click on the Add a web image button, the modal will appear. Place the image's URL in the box and click the check mark to add the image.

Once you select an image, it will be placed in the exact spot where you dropped the gizmo on the portfolio page.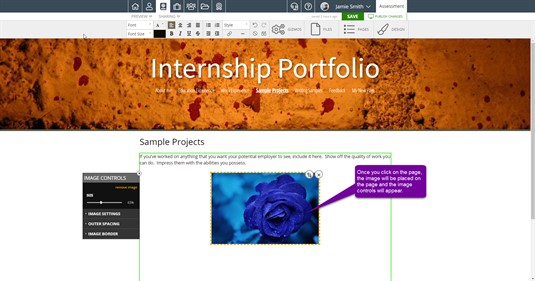 Now that the image has been put in place, you can edit the image using the Image Controls. This will allow you to add borders, padding, and captions to your image.