March
At Foliotek, we work hard to provide the best assessment and portfolio software possible. Sometimes we fix things that don't work, other times we release new features to improve your experience. Below you will find a description of the changes we made this month.
3.1.2021
What's new
We released some new features and upgrades this month:
Nothing new was released this month.
What we fixed
The reply button available to faculty members when responding to a student's requested review was not notifying the student in any way that a reply had been made to the request. The reply button will now put a to-do item in the student's account.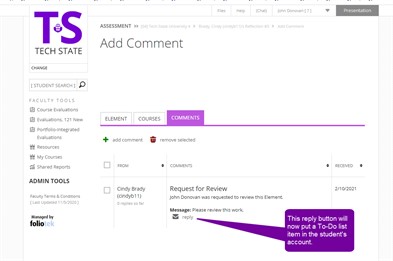 If an administrator uploaded a replacement resource for a portfolio, the link to the resource would be broken. All resource links should now be fixed.
Credly badges are no longer available as Credly was acquired by Acclaim. As a result, all connections to Credly and Credly badges have now been removed.
What we're working on
Watch for these items to be released in the future:
Nothing close enough to mention right now.
If you have questions or want more information about anything we released this week, call our support team at 888.365.4639 and select option 2.