Customizing your Identity Page
The Styling icon in the editing tools slider gives you the ability to adjust the color scheme used on your Identity page. Our system uses precise algorithms to suggest the perfect color scheme based on the background image you select. However, we give you the option to tweak it a little to better fit your taste.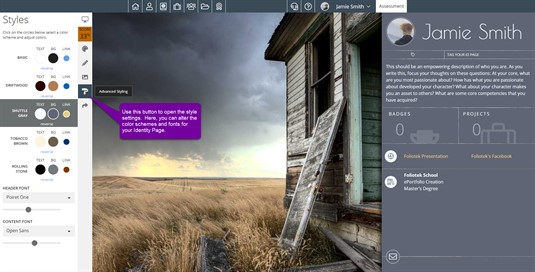 Customizing the Colors
Everytime you select a background image, Foliotek suggests four color schemes and applies the first one to your page. You can click on each scheme to see how it looks. You can even swap the colors to see how that changes things. With these pre-selected colors, you are given the ability to change the text color of any links you may have added to your page. Simply click the eye dropper icon in the smaller circle to change the link color. Custom allows you to select all three colors yourself.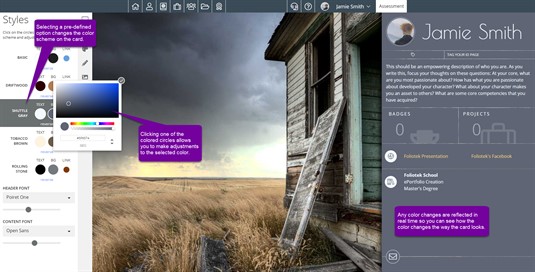 Customizing the Font
You also have the ability to adjust the font and size of the text on your page. Foliotek pre-selects fonts and sizes based on the template you chose when you started to build your Identity page. In this area, you can choose from several different fonts for the header and body text of your page. Adjusting the size of the header font can also change the width of the content box.