Creating your look
The Image icon in the editing tools slider allows you to change the look of your Identity page. Here, you can select a different background image, adjust the look of the background, and change the way the background of the content box looks.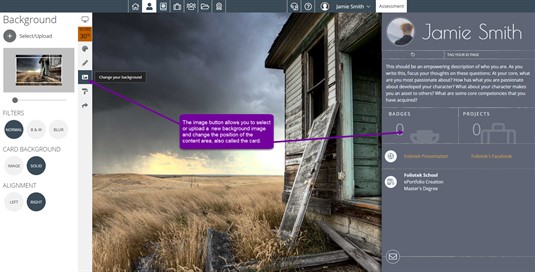 Outer Background
The outer background is the image that serves as the background for your Identity page. This image can be chosen from our stock of hundreds of amazing images. You also have access to a folder containing images you have already uploaded into your Foliotek Presentation account. Or, if you prefer, you can upload your own image and use it as the background. Clicking Select/Upload let's you access all three options.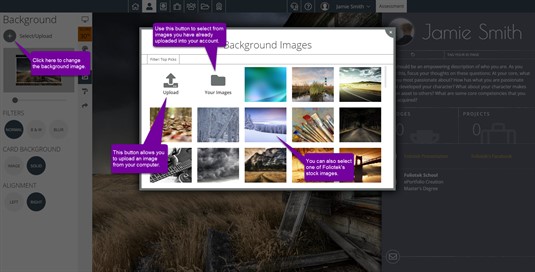 Once you have selected an image for the background, you can use the view changer on the image in the left column to change the portion and size of the image that is used as the background.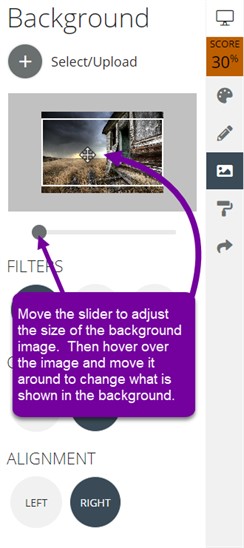 You can also select from color, black & white, or blurred options. The best thing to do is pick an image you like and adjust the settings to see it in different ways. You can keep selecting images and settings until you find something you like.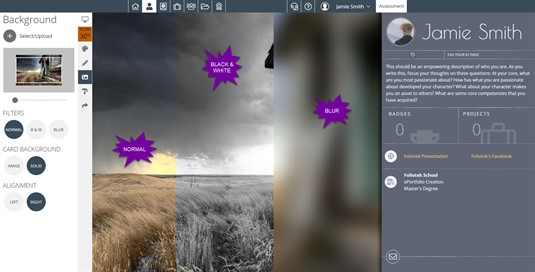 Inner Background
The inner background is what is behind the content on the page. Here you have two options: image or solid. The image option takes the background image you selected and places it as the background behind the content and transparent color overlay (you can change this in the customization area) in the content box. Selecting solid, uses the color options you select in the customization area to provide a colored background for your content.