Accessing Student Information
How can I search for students?
You can search for students in two different ways:
1. Enter the student's first or last name in the Student Search text box in the left menu and click on the Find button to view the results. Click on the name of the student you wish to view.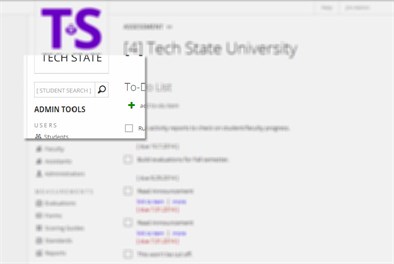 2. Click on Students in the left menu area to search by Program/Group, Course, or Profile. Select your criteria using the radio buttons and dropdown menus. Click Find to see a list of students who meet your criteria. Click the name of the student you are looking for to access Profile, Portfolio, Evaluation and other information about that student. Click Impersonate to actually enter the student's account. If you do this, the student is notified by email that you impersonated them and they have access to information on everything you did in the account.