Adding Projects to an ePortfolio
Projects are a great way to supplement your ePortfolios. You can add Projects to your ePortfolio easily in two ways. The first way is to use the Projects Gizmo in the portfolio editor. You can find instructions for doing that here. The second way, described below, is to add the Project through the Files area.
Go to the ePortfolio Editor
From the Dashboard, click on the ePortfolio Management icon.

Next, click on the Pencil icon to edit your ePortfolio.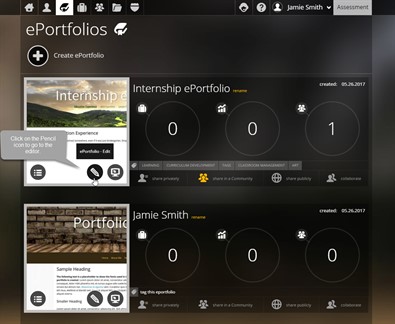 Add your Project
Click on the Files button in the gray toolbar. Your Project will be listed as one of your Files. Sort your Files by Projects to easily find any Projects you have created. Select your project and then place it on your ePortfolio, just like adding a file.
Editing your Project
You can edit your Project by moving your mouse over it and clicking on the Pencil icon. This will bring up the Project editor.