What are the reports that I can use and how do I use them?
Reports
There are a few different uses to the reports. One is that they give an account for what has been done in the students portfolios. They can also be used to randomly compare different students portfolios that are in your community.
Finding Reports
First you will need to go to the moderate communities page. Click on the Moderator-Moderate Communities Icon.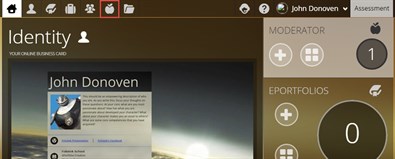 Then click on the community you want to run the reports in.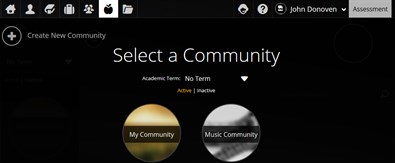 Once you have choosen your community you will be taken to the page where you can moderate your community.Click on the perform actions icon.

After you have clicked on the perform actions icon a side menu will open up with different options. Click on the Run Reports option.

When you click on 'Run Reports' you will be taken to the reports page where three different types of reports will be listed.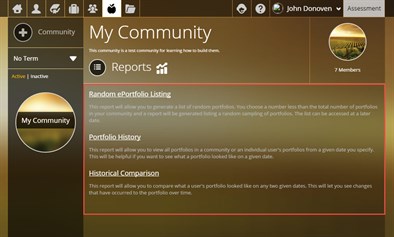 Random ePortfolio Listing
This list allows you to generate a list of random portfolios that you can look over, or compare to other students. You can also export the generated portfolios and access the data at a later time.
First click on 'Random ePortfolio Listing.'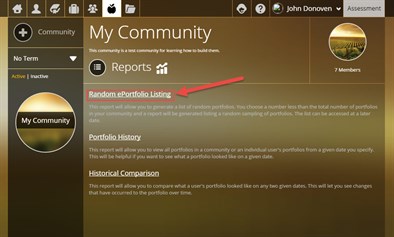 After you have click on the 'Random ePortfolio Listing' you will be taken to a page where you will fill out the amount of portfolios you want compiled. You will want to put a number that is less then the amount of members you have in your community. You can also click on the drop arrow located under 'Saved Reports' in order to view previous listings that you have generated.
Portfolio History
This report will allow you to view all portfolios in a given community or an indiviual user's portfolios from a given date you specify. This will be helpful if you want to see what a portfolio looked like on a given date.
First Click on 'Portfolio History.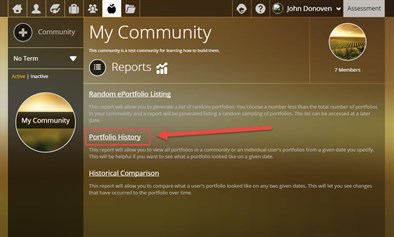 Next, you will need to enter a date and, optionally, an email address for a student's account in order to look up a specific student. Once you enter this information, you will need to click on the checkmark button to generate the report.
The final Report will look like this: