How do I leave feedback for students?
Giving Feedback
Leaving feedback on a students' portfolio is very easy. First, you will need to click on the moderator button (the apple icon) that will take you to the page where you select the community you would like to moderate. Once you select that community, the first page will list all of the students in the community. This can also be accessed by selecting the 'Perform Actions Button' and choosing the first icon to view members.
Once you are on the members page, select the student who you want to leave feedback for.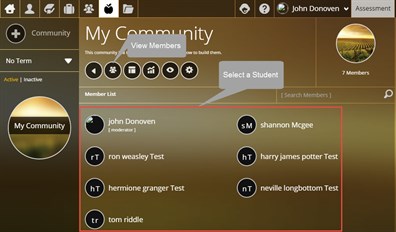 Once you have selected the student you want to leave feedback for you will be able to see the student's information and any portfolio they have shared in the community.Inside the portfolio screenshot section will be the option to leave feedback.