How do I create a content template for my community?
Creating Creating Content Template for a Community
What is a Community Content Template
A community content template is a set of pre-defined pages that community members can use to create their own ePortfolio. Additional content can be added to the pages of your template to provide instructions or resources to community members. It is important to note that the template you create will still allow members to control the design aspects and content of their ePortfolio. The content template only provisions the pre-defined pages of the ePortfolio.
How to create a content template
First you must choose a portfolio to convert to the community template. You can do this by going your eportfolio mangage page and click on the eportfolio actions icon.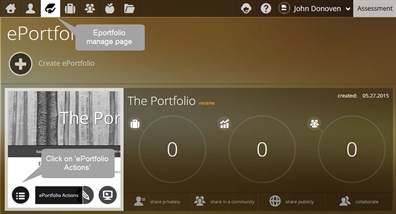 When you click on the 'ePortfolio Actions' icon a drop down box will appear with a list of options. The first one is the one you want to choose, 'convert to content template.'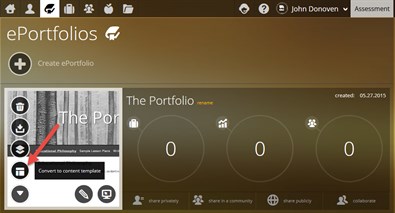 After you click convert a page will pop up where you will choost the community it will be the template for and to name the template. Once you have finished click done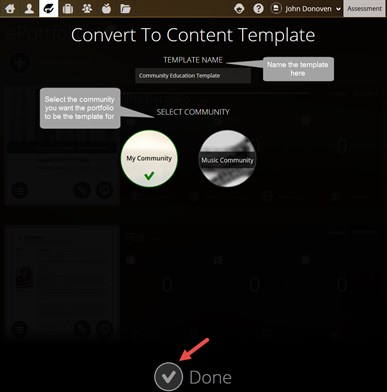 After finishing this, you now just need to publish your template. To do this, go to the moderator page for that community, click on the perform actions button that is located near the heading 'Members' when you first load the page, and then click on the templates icon. Here you will see any templates that you have created and will be able to publish them.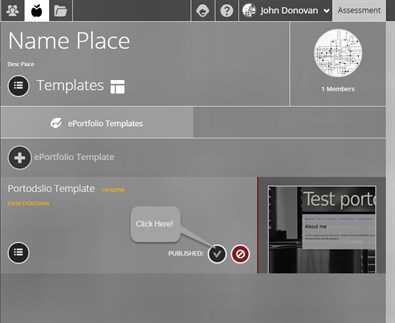 Making Changes to Template
To make changes to the template, you will first need to edit the original portfolio that you used for the content template. After you make your changes and save them in the portfolio editor, you can convert it to a content template again. Then you will need to go to the community moderator page, click on the community you just choose the template for and click on the perform actions icon.
Once you click on perform actions a side box will appear with different options. Click on 'Templates.' From there you can preview the template or delete it, you can also see when it was created. Using either the date or the preview button, you will be able to distinguish between the new and old templates. Simply delete the old template and you will have your new, updated template!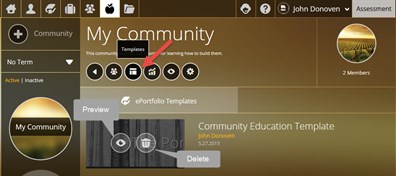 Community Content Template in Student Portfolio
From a students perspective, when they go to create a portfolio they will see the option to use content template of the communities they are part of.