Editing Files
To start using files in your Foliotek Presentation, first open a portofolio, then click the "FILES" button on the editing bar.
What Does It Mean To Edit Files?
In Foliotek, uploading your document does not have to be the end of editing that document. You can rename the document directly from the file storage area.
Renaming A File
If you wish to rename a file you have uploaded to your portfolio, you may do this from the file storage area. To do this, go to the file storage area, mouse over the file you wish to rename, and click "edit".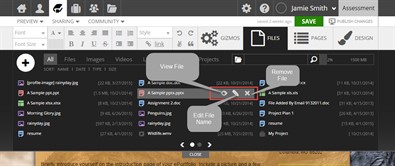 You may now type a new name for your file in the text box; click "DONE" when completed.