Document Gizmo
Foliotek presentation allows you to add documents to your portfolio a number of different ways. One of these ways is using the DOCUMENT GIZMO. This is a gizmo found using the Gizmos tab on the toolbar.
Quick Instructions:
Click on the GIZMOS tab
Click on the Document Gizmo
Click in your portfolio where you want the document to go
Click on the document you would like to add
Select a display style, link or inline, for the document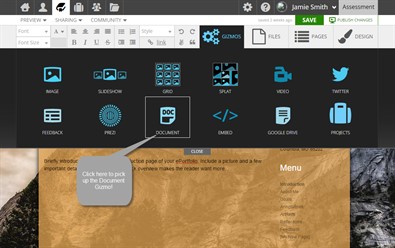 Using the Document Gizmo
You'll find the Document Gizmo located with the rest of the gizmos in the GIZMOS tab on the standard content editor toolbar.
Once you find the Document Gizmo, click once on the gizmo to "pick it up." There is no need to click and drag the gizmo. Clicking on it once will "pick it up."
After you have picked up the Document Gizmo by clicking on it, you can place it anywhere in the portfolio page you have open by clicking once again to place it.
Navigate to where you would like the Gizmo to be placed and click again to "put it down" where you would like the document to be placed.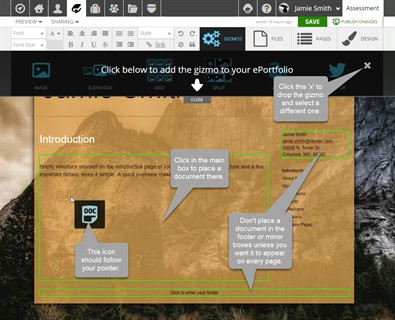 Once you click to place the gizmo, you have the choice to either click on a document that has previoulsy been added to your Files area or upload a document and add it to the portfolio page.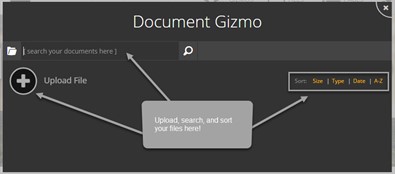 If you click on a document that has been previously uploaded, this will add a link to that document in the page where you had clicked to add the gizmo. You can also add that document so it can be viewed inline with the text as a placeholder. You can click the Upload Documents button to add a document that had not been placed in your Files area before. Clicking the button will open up a browser which you can use to search your computer for the necessary document. Once you find the document, click Open and the document is shown uploading in the Gizmo. Once it finishes uploading, you can click it and it will be added as a link in the page or as a placeholder inline with the text in the page.
Whichever method you choose to use to add a document, it will add it as a link in the page or with an inline placeholder. If you choose to display the document inline, you will be asked to accept the Microsoft terms of service before the document will be added. Once the document is added, you can double click the document in placeholder view to add a description, or change the margin and border size around your document.