How do I export/save my ePortfolio to my computer?
Exporting your ePortfolio
Downloading your ePortfolio is easy! First, you need to go to your ePortfolio managment page and click on the actions button for the portfolio that you would like to export. From there, you will need to hover over each icon until you find the one that says export.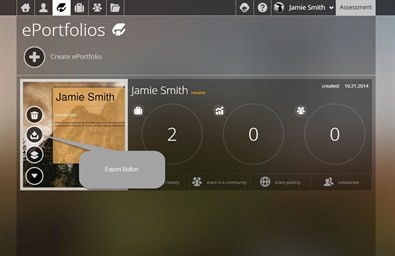 After you click the export button, the download should begin in your browser. It will download a compressed file, usually named portfolio.zip to your downloads folder. Because the file is compressed, you may need to extract the files before using them. This is dependent on your computer, but if you click here you will be brought to a Wiki page on how to handle .zip files.