ePortfolios Manager
Managing your ePortfolio
The ePortfolio Manager shows you the number of portfolios you have created. From here you can create a new portfolio or manage the portfolio(s) you have already created.
The ePortfolio Creation Tool
The + sign on the dashboard in the ePortfolio Manager takes you to the portfolio creation tool.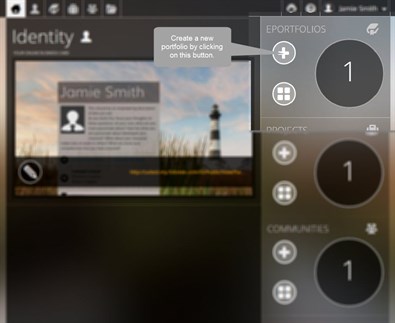 Creating an ePortfolio
The first step in creating a new portfolio is to select a background. Use the arrows to scroll through all the choices. 'Try on' as many as you like, when you click on one the portfolio at the bottom of the screen changes to use the new background.

Once you have selected a background, you need to decide which template to use. There are stock templates to choose from for job hunting, seeking internships, or just tracking your learning. If you are associated with a college or university, you may have templates that are designated by your school for use. You can also start from scratch by selecting the Blank ePortfolio template.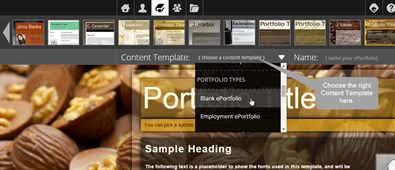 The last step is to name the portfolio. Once you finish that task, a check mark button will appear. Simply click on the check mark to finish creating the portfolio.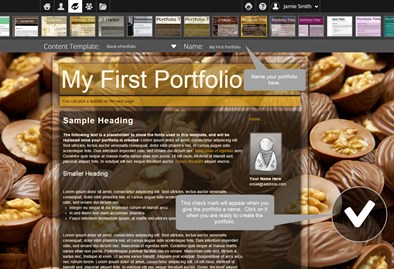 The portfolio you created will now be opened in the content editor. Here you can add your unique content and further style the portfolio to look the way you want it to look.
Your ePortfolios List
On this page, you will see a list of all ePortfolios you have created. Each one will have a set of sharing options, as well as buttons to edit, preview, export/download, copy, and delete. It will also show some basic information about the ePortfolio, such as any projects in it, the number of views a shared version has received, and the number of communities it is shared in.