Legacy Dashboard
The dashboard is the first thing that you see when you login to your Foliotek Presentation portfolio. From here you can edit your account, create a new portfolio, edit an existing portfolio, or view the communities in which you have shared your portfolio(s).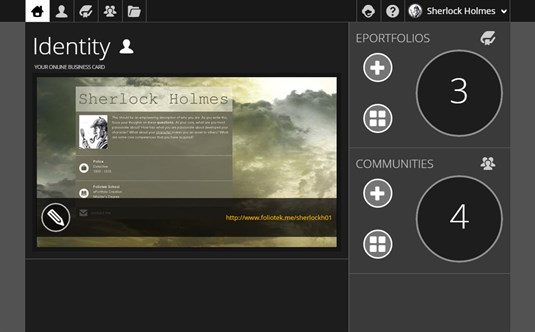 The Top Black Bar
Since the top black bar is always visible from any page in your portfolio, you can access your dashboard, identity page, portfolios list, communities, files manager, and our help system at any time. You also have links for editing your account, signing out, and chatting with our support team.

Editing Your Account
To edit your account click your username in the upper right corner and choose "Account Settings".

Please see Account Settings for more information on the available options.
Signing Out
To sign out of your portfolio, click your username in the upper right corner and choose "Logout".

Files Manager
The files manager can be accessed from anywhere using the folder icon in the top black bar.

Communities
The communities area can be reached using the three-person icon in the top black bar.

ePortfolios
The portfolio button in the top black bar takes you to the ePortfolios Manager.

Identity Page
To work with your Identity page, use the person icon in the top black bar.

The Main Dashboard
The main dashboard area contains sections for your identity page, ePortfolios, and communities. The screenshot of your Identity page is your access to the Identity page manager. You can use the URL to share your identity with others. In the ePortfolios manager, you can access the portfolio editor and manage your portfolios. The communities manager shows you how many communities you've joined and gives you access to the communites area.
Identity Page Manager
From this section of the dashboard you can access the identity page editor. The editor bar on the screenshot holds the button that takes you to the editor and displays the URL for your identity page. Clicking on the URL takes you to the published version of your identity. You can share this URL with others if you want them to see your identity.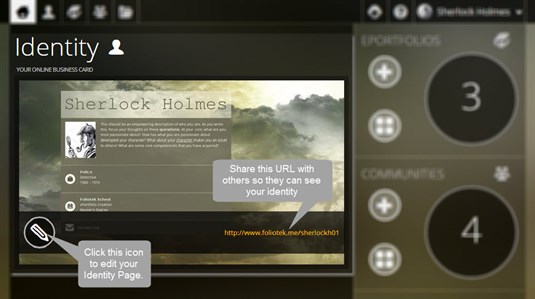 ePortfolios Manager
The ePortfolio Manager shows you the number of portfolios you have created. From here you can create a new portfolio or manage the portfolio(s) you have already created.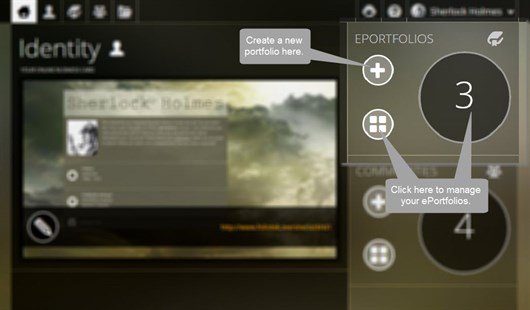 Communities Manager
The Communities Manager gives you information on the number of communities you have joined. From here you can join a new community or manage the communities you have already joined.